Welcome to neotacular |
Forums
Blumaroll
World
Difficulty
NP Ratio
Easy
N/A
Trophies

N/A
---
Intro: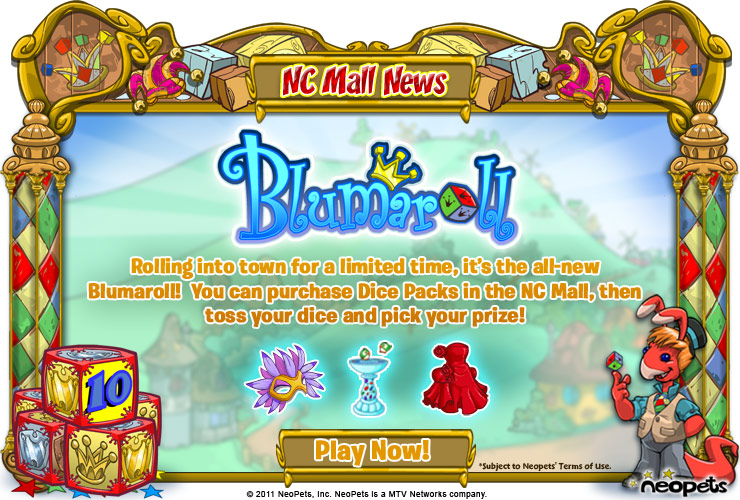 Links->
Blumaroll
|
FAQ
|
NC Mall
This game is very similar to Jubjub Bounce, where you have to spend Neocash to get the dice packs to play the game. Except this game is only offered during specific times during the year. When Blumaroll is in the NC Mall you will be able to play to get different prizes each time. If you are not able to use all of your dice packs before Blumaroll is over, when Blumaroll returns to the NC Mall you will be able to use your dice packs from the previous Blumaroll on the new one.
Dice Packs:
The following are the current dice packs that you will be able to purchase at the
NC Mall
. The corresponding number, tells you how many game plays each dice pack is worth.
NOT AT THIS MOMENT!
How to Play:
To begin playing, make sure a dice pack is in your inventory and click "activate" option on the Blumaroll page. When you active one of the dice in the dice pack, you use up one of the dice in the dice pack. Roll the die and when it lands on a side, you will win a prize from the corresponding shelves (you pick the prize).
Retired Items:
Below are the retired items from previous years to recap the past prizes:
2011
|
2012
Current Prizes:
Chill out. Blumaroll has rolled out of the
NC Mall
and will be back later this year, so keep checking back.
---------------------
- Brought to you by Stephen
Any errors spotted in the above guide?
Tell us!
« Main List
Printer Friendly Version