Welcome to neotacular |
Forums
Check Out Our Generators!
Did you know our site offers a variety of "generators" for you to create personalized graphics and scripts?
April Fools 2002
Every year TNT decides it is fun to mess with Neopian's heads a little bit. Ever since 2001, TNT has been pulling pranks. Each year it is something new and even more creative then the last. Some Neopian's are prepared on the first of April when TNT is ready to release a cruel joke, but there is always a few that forget what the date is.
The year of 2002 was not as thought out as previous years. This year TNT decided it be fun to play a very cruel joke on Neopians. This year TNT decided to have the Paint Devil remove all items from every Neopians' inventory and safety deposit boxes. This caused quite an uproar for Neopians.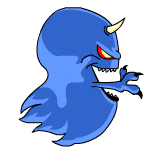 Muhhhhhha! Aren't I just so evil?
TNT made sure to tell everyone in the
news
for April 1st that it was a prank and that things would be correct.
---------------------
- Brought to you by Stephen
Any errors spotted in the above guide?
Tell us!
« Main List
Printer Friendly Version