Welcome to neotacular |
Forums
Help Us Out!
Did you know that you can help out Neotacular in many ways? We have a suggestion forum for you to post ways for us to make the site better, a submission form to submit game guides, graphics or anything, and "vote for us" links to topsites in the right column! We appreciate your support!
Bloomin' Neggs 2013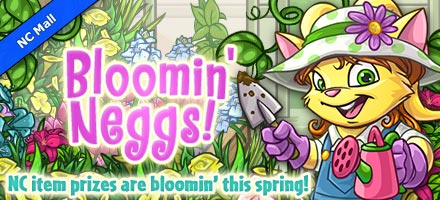 Links->
Festival of Neggs
|
Neoboards: Festival of Neggs
|
Bloomin' Neggs
|
Bloomin' Neggs FAQ
|
Honest Pete's
Read to get dirt under your fingernails? Ready to enter the Neogreenhouses? Well, if you answered yes to both questions
Bloomin' Neggs
Neocash event. Well grab your wateringcans and help Flora, the Acara host, plant some beautiful Neggs. This event runs from March 21st to 11:59:59 PM NST April 9th, 2013, and can be completed on side accounts.
Bloomin' Neggs Planting Kit
Planting Kits will be released over the course of the event, which will allow the growth of four different neggs! The four kits are Zigzag, Argyle, Striped and Polka Dot.
Bloomin' Neggs Planting Kit

Bloomin Neggs Planting Kit #1 - Zigzag (500 NC)

Bloomin Neggs Planting Kit #2 - Argyle (500 NC)
Once you purchase a Planting Kit from the
NC Mall
you'll need to activate it from your inventory. Another option is selecting the corresponding plant pot on the main Bloomin' Neggs page. When purchasing your Planting Kit, pay close attention to what your purchasing, because you are only allowed to activate one of each kit. So make sure you purchase the correct one and not a duplicate kit already used.
Planting Neggs
With your gloves on and Planting Kit activated and in-hand, then we are ready to start growing our Neggs. To start growing our neggs, we must click the appropriate pot on the left side of the screen and it will appear on the table. If the pot on the left is yellow, then you have a prize wating. Simply click on the pot on the counter to recieve your prize, which will appear in a popup and will reward you with your prize. The image of the pot will change and will update for the negg you are growing. Each negg takes fives days to completely grow, so your job is to return each day. On the bright side, neggs are magical and you can return and grow a negg after a period of time.
On the right side counter is another negg growing. This negg grows when you activate a Planting Kit. Once this negg plant is fully grown, you will be rewarded with a bonus prize and you can collect this prize when all four Planting Kits have been activiated.
Prizes
Grab a prize daily when you tend to your plant and grow some amazing neggs. A bonus prize will be available to those participants who activate and plant all four neggs! Let's get planting and get those prizes:
Bloomin' Neggs - Zigzag
Zigzag
Day 01
Day 02
Day 03
Day 04
Day 05

March 21-25

Woven Basket Dress

Negg Basket Wand

Whimsical Negg House Background

Striped Floral Gift Box

Painted Flower Contacts

Spring Flower Mask
Bloomin' Neggs - Argyle
Argyle
Day 06
Day 07
Day 08
Day 09
Day 10

March 26-25

Carrot Crown

Negg Painting Factory Garland

Fancy Negg Gate Foreground

Fantastical Land of Neggs Background
« Main List
Printer Friendly Version