Welcome to neotacular |
Forums
Interested in Helping?
Are you interested in helping other neopians and neotacular users out? If so you should sign up to be one of our live help staff, you can apply here!
Stocking Stufftacular 2013

Stocking Stufftacular is an NC Mall event that occurs during the month of Celebrating with a new gift every night from December 8th through December 31st. To join in the festivities, you must purchase a ticket packet and hang a stocking each night to recieve a gift.
Ticket Packs
To join in the festivities, purchas a Stocking Stufftacular Stocking Pack from the
NC Mall
. To activate Stocking Pack, visit your inventory and click the ticket. Then click the activation option to activate the Stocking Pack. Once this is complete, you will be able to visit the
Stocking Stufftacular page
and slect the places you would like to hang your stockings.
Stocking Stufftacular NC Packs

2013 Stocking Stufftacular 25-Pack
1,800 NC
On sale through December 7th

2013 Stocking Stufftacular 10-Pack
800 NC
On sale through December 22nd

2013 Stocking Stufftacular 5-Pack
500 NC
On sale through December 27th

2013 Stocking Stufftacular 1-Pack
150 NC
On sale through December 31st
Hanging Stockings
To recieve a gift, you must hang your stockings by 11:59pm NST the night before. If you do not hang your stocking by the deadline, you will not recieve the gift for that following day. You can hang your stocking days or weeks ahead of time. This might be useful if you don't want to remember to hang your stocking the day before. However, once a stocking is hung you cannot move it to a different day.
A really cool bonus is that you may hang up five stockings on a peg on any given day. This will reward you with multiples of the item(s). However, bonus prizes are the exception. You will only be awarded one bonus item.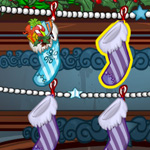 Items are given out daily at 5:00am NST, starting on December 8th. This means if you want that first gift, you have to hang a stocking on the first peg by 11:59pm NST on December 7th. You can participate in this event on your side accounts. If you have further questions, please visit the
Official Stocking Stufftacular FAQ
.
Prizes
December 8, 2013


Fir Trimmed Dress
December 9, 2013


Holiday Lamp Wreath Garland
December 10, 2013


Gingerbread Apron
December 11, 2013

Holiday String Lights Face Paint

Polka Dot Pine Cone Gift Box
December 12, 2013

Wintery Palace Background

Mistletoe Sword


(Bonus for completing Days 1 - 5)
December 13, 2013


Berry Nice Holiday Wings
December 14, 2013


Candy Cane Skirt
December 15, 2013


Candy Cane Shield
December 16, 2013


Snow Covered Boy Hair Wig
December 17, 2013

Dazzling Holiday Ornaments

Gingerbread Top Hat


(Bonus for completing Days 6 - 10)
December 18, 2013


Jingle Bell Stocking Cape
December 19, 2013

Frozen Star Lights

Polka Dot Pine Cone Gift Box
December 20, 2013


Jovial Holiday Staff
December 21, 2013


Dramatic Winter Cape
December 22, 2013

Snowy Lights Background

Snowy Lights Background


(Bonus for completing Days 11 - 15)
December 23, 2013


Midnight Blue Infinity Scarf
December 24, 2013


Festive Bag of Gifts
December 25, 2013


Golden Bell Dress
December 26, 2013


Burgundy Velvet Jacket and Shirt
December 27, 2013

Furry Winter Hat and Wig

Pink Tasu Flats


(Bonus for completing Days 16 - 20)
December 28, 2013


Icy Eye Shadow
December 29, 2013


Frozen Glade Background
December 30, 2013


Frosted Pine Cone Bouquet
December 31, 2013

On the Slopes Background

Polka Dot Pine Cone Gift Box
Community Challeng Bonus Prize
Just like last year, there is a community challenge. If enough people participate in the even, then on January 3rd, 2014, everyone that hung at least one single stocking will reiview a bonus item.
---------------------
- Brought to you by Stephen
Any errors spotted in the above guide?
Tell us!
« Main List
Printer Friendly Version