Welcome to neotacular |
Forums
Find an Error?
If you find an error on our site, such as the layout stretching on a page, a typo, or code showing where it shouldn't, please send us an error report in the Report an Error Forum!
Stocking Stufftacular 2014

Stocking Stufftacular is an NC Mall event that occurs during the month of Celebrating with a new gift every night from December 8th through December 31st. To join in the festivities, you must purchase a ticket packet and hang a stocking each night to recieve a gift.
Ticket Packs
To join in the festivities, purchas a Stocking Stufftacular Stocking Pack from the
NC Mall
. To activate Stocking Pack, visit your inventory and click the ticket. Then click the activation option to activate the Stocking Pack. Once this is complete, you will be able to visit the
Stocking Stufftacular page
and slect the places you would like to hang your stockings.
Stocking Stufftacular NC Packs

2014 Stocking Stufftacular 25-Pack
1,800 NC
On sale through December 7th

2014 Stocking Stufftacular 10-Pack
800 NC
On sale through December 22nd

2014 Stocking Stufftacular 5-Pack
500 NC
On sale through December 27th

2014 Stocking Stufftacular 1-Pack
150 NC
On sale through December 31st
Hanging Stockings
To recieve a gift, you must hang your stockings by 11:59pm NST the night before. If you do not hang your stocking by the deadline, you will not recieve the gift for that following day. You can hang your stocking days or weeks ahead of time. This might be useful if you don't want to remember to hang your stocking the day before. However, once a stocking is hung you cannot move it to a different day.
A really cool bonus is that you may hang up five stockings on a peg on any given day. This will reward you with multiples of the item(s). However, bonus prizes are the exception. You will only be awarded one bonus item.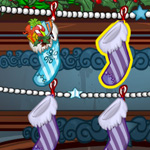 Items are given out daily at 5:00am NST, starting on December 8th. This means if you want that first gift, you have to hang a stocking on the first peg by 11:59pm NST on December 7th. You can participate in this event on your side accounts. If you have further questions, please visit the
Official Stocking Stufftacular FAQ
.
Prizes
December 8, 2014


On the Mantel Background
December 9, 2014


Holiday Helper Coat with Tails
December 10, 2014


Berry Red Velvet Gown
December 11, 2014

Ona Facepaint and Antennae

Peppermint Stick Gift Box
December 12, 2014

Holiday Star Ladder Trinket

Candy Cane Candle Trinket


(Bonus for completing Days 1 - 5)
December 13, 2014


Handheld Snowman Mask
December 14, 2014


Wispy Holiday Ponytail
December 15, 2014


Snowman Christmas Tree
December 16, 2014


Stained Glass Contacts
December 17, 2014

Gingerbread Party Frock

Silver and Scarlet Ombre Wig


(Bonus for completing Days 6 - 10)
December 18, 2014


Gingerbread Cookie Background
December 19, 2014

Darblat Ice Slide

Peppermint Stick Gift Box
December 20, 2014


Holiday Ruffle Skirt with Baubles
December 21, 2014


Hand Knitted Winter Hoodie
December 22, 2014

Pinecone Crown and Wig

Holiday Berryflower Wings


(Bonus for completing Days 11 - 15)
December 23, 2014


Christmas Tree Capelet
December 24, 2014


Christmas Eve Tent Background
December 25, 2014


Splendid Holiday Jingle Gown
December 26, 2014


Surrounded By Toys Foreground
December 27, 2014

Red Sweater and Plaid Scarf

Wooden Snowflake Garland


(Bonus for completing Days 16 - 20)
December 28, 2014


Shimmery Snowflake Wand
December 29, 2014


Snowflake Face Mask
December 30, 2014

Star Diadem Wig

Peppermint Stick Gift Box
---------------------
- Brought to you by Stephen
Any errors spotted in the above guide?
Tell us!
« Main List
Printer Friendly Version