Welcome to neotacular |
Forums
Help Us Out!
Did you know that you can help out Neotacular in many ways? We have a suggestion forum for you to post ways for us to make the site better, a submission form to submit game guides, graphics or anything, and "vote for us" links to topsites in the right column! We appreciate your support!
Creating Pixels
Don't you adore those cute little images? Strawberries, bottles, crayons, firemen. Everything and anything can be done. These things are called Pixels, and thats what ill show you how to make.
First off, open up Paint or a similar graphics program. Click the magnifying glass

, and in the box below that appears, click the 8x.


Select the pencil

, and choose black out of the below colours.
Start drawing. I started with the black outline of a lemon & a drink.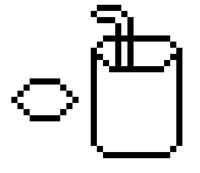 Use the paint bucket tool

, pick a colour from the bottom pallate, and start filling in the outline.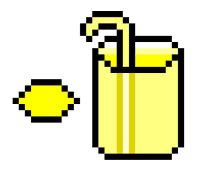 Using some darker&lighter colours, stroke just the right&bottom of the pixels, inside the outline.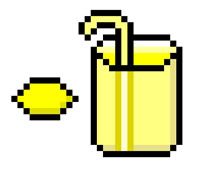 Finish it off through either the Text tool

, or write it yourself. If you use the text tool, make sure you're zoomed out by clicking the Magnifier and clicking on the image. I wrote with the pencil tool. Heres my result;




« Main List


Printer Friendly Version