Welcome to neotacular |
Forums
Check Out Our Generators!
Did you know our site offers a variety of "generators" for you to create personalized graphics and scripts?
Blending Images
This tutorial will show you how to blend two Images together to create one. I will be using two Neopets images in this tutorial as they are easy to blend and great to practice with.
Find a minimum of two images that have similar colour schemes. I am using these: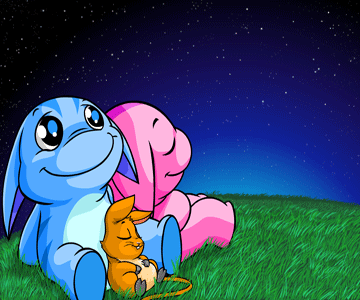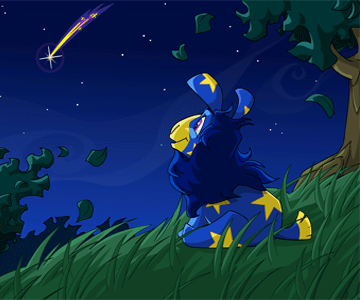 Open a new canvas that is 550 pixels by 300 pixels. (Or as big as you need if you are not using neopets images)

Paste both images as new layers (ctrl+L) and move them to the edges of your canvas, so that they fill the entire canvas space. One image will overlap the other.



Click to view full sized image
Using your selction tool, set to a feather of about 55px and select the area where the two images meet. The selection area should then increase due to feathering.



Click to view full sized image
Press delete until the edges of the image has blended smoothly together, then deselect the area (Ctrl+D).

Here is my finished product:



Click to view full sized image
To obtain different effects, try selecting different areas of the image separately to blend. For example, in my image, selecting the grass and sky separately will achieve different results than selecting them both together. Happy experimenting!

---------------------
- Tutorial made by Katy, using Paint Shop Pro 8.

Spot any errors in the above tutorial? Tell us!

« Main List


Printer Friendly Version